Road trips are great fun, endless roads with your favourite music, friends/family and your best companion; your car. Delhi has a central location which gives you a variety of places for a weekend road trip. Be it visiting the royal forts of Rajasthan or relaxing in the hills above; we are here with some ideas:
Jibhi
Jibhi is an excellent destination packed with the bliss of nature, good weather and a fantastic drive. This can be your road trip if you want a journey through scenic landscapes and some adventure.
Also Read: Top 10 Car Accessories That Can Come Handy On A Road Trip
It is a 508-kilometre drive from Delhi that takes about half a day. But before every long road trip, you must get your car checked and ready for the journey to & fro. You don't have to worry about it; you can contact us and get our best road trip inspection service.
Kanatal
At some point, we all get tired of city life, the daily monotonous schedule and the hustle and bustle of the busy streets. It is essential to get away for a bit and take a break; Kanatal can be a good pick. You can also visit the Tehri lake nearby for some water sports.
Also Read: 10 Essential Services your Car Needs Before a Road Trip | Back to Travel Special
It is 315 kilometres away, making it around a 7-hour drive from Delhi. We have a well-planned service with a 50-point checklist to provide the best care for your vehicle. Both campaigns are hilly, so it's better to ensure that your car runs in the best condition.
Nainital
This destination is familiar to most people, and we all have been to this hill station at least once. Nainital has some new points and good attractions like the Snow view point, Tiffin top and Mall road.
Also Read: Road Trips From Delhi | 9 Locations Worth a Shot!
It is around 300 kilometres making it a 6-hour drive. This route, at times, includes some under-construction roads and rocky patches. So it is better to ensure that your car is also ready for bad roads. Our road inspection service also includes essential checks such as wheel alignment & balancing.
Jim Corbett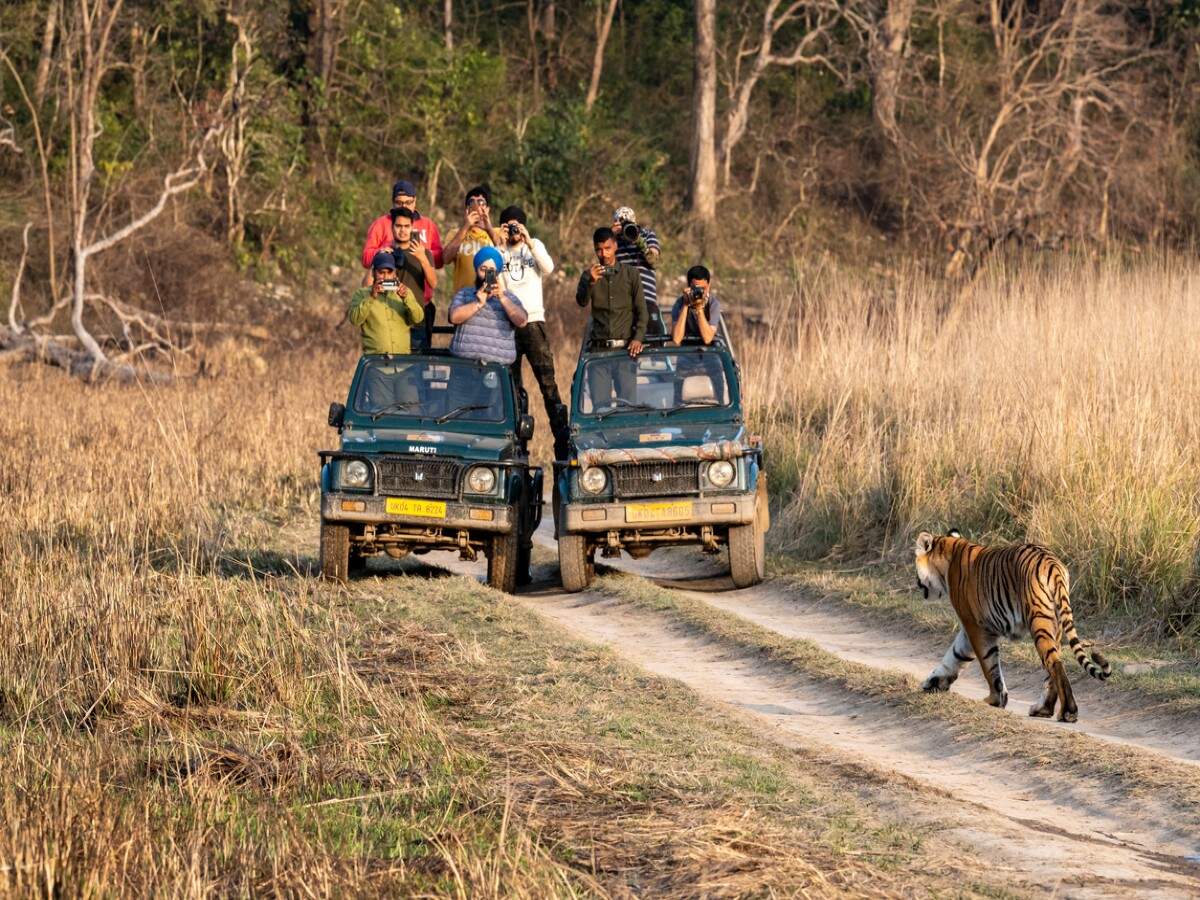 Coming to the next road trip idea, we have Jim Corbett; it is a popular destination for a weekend getaway and a tiger safari. The tiger safari and some nearby waterfalls are the main attractions. You can even combine this destination with Nainital and have a more extended road trip.
Also Read: Celebrating The Mahindra Thar | 10 Years of An Offroading Cult
It is best to drive and take your car along to enjoy the freedom of the open roads. All these road trips have scenic views along the way. For longer road trips, we can ensure your car has all systems well and going; our road trip inspection service caters to complete scanning of the vehicle to check every bit.
Jaipur 
The last destination on our list is the pink city, Jaipur. Around 250 kilometres away, it is known for its royal forts and palaces, along with some authentic Rajasthani food along the way. Before entering the city, you can also try a lavish meal at Choki Dhani.
Also Read: 2020 Mahindra Thar vs Suzuki Jimny: Can Maruti Conquer Offroading?
While the hill stations might have been pleasant, Jaipur has similar weather to Delhi, so ensure your air conditioning is working. Our experts provide the best for your car and a fantastic trip! Before any road trip, call us, and we will take care of the rest.